You are certainly not the only one feeling overwhelmed in finding ways to better manage your ideation efforts. There is no miracle ideation platform that will replace good team efforts at the idea generation stage. There is no bulletproof process. Wouldn't it be just fantastic to get good return out of your innovation investment and to win over your skeptical colleagues?
Generating new ideas is the corner stone of any innovation initiative.
As technologies and new methods help support this already difficult process; there is always a risk that it will become even more cumbersome and complex. While it is not a guarantee for success, what else can you do to have a strong innovation pipeline? Our experience shows that it doesn't come that easily:
Some typical innovation issues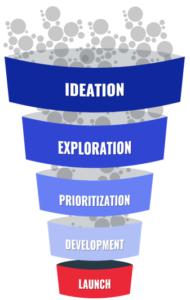 @ ideation stage too many organizations lack imagination to come up with disruptive ideas and struggle to translate innovation strategy into product / service ideas.
@ Exploration stage vast majority of organizations don't muscle ideas prior to setting them up to development path and have real difficulties to embed & leverage customer insights
@ Prioritization stage all organization kill ideas a lot better than revising them and battle to sustain long term pipeline
Post it notes or Platforms?
At first look physical meetings, workshops and presentations seem to becoming outdated, given today's time starving, lean, collaborative and virtual connected world. However, collaborative tools, software platforms, and online hackathons can quickly lead to short-term innovation euphoria. In the long run they risk becoming an uninspiring mechanical exercise that will be able to treat only low impact initiatives.
To be insightful in idea generation, providing clear visibility, and filtering the results pragmatically, you need to do some thinking before getting started.
Rather than focusing too much on whether your efforts are online or offline or some combination of both, we think you should first reflect on the following 6 points:
" Too much of the same" – if you engage the same people and partners, you'll get the same results as before, regardless of the methodology.
Wild cards risk – ideas coming from a wider participation (open innovation, innovation challenges, hackathons, etc.) can be chaotic & unproductive if the problem is poorly formulated.
Filtering and reviewing is often harder than generating ideas. While any child can state a preference, it's a grown up's job to connect strategy to ideas clustered on affinity and backed by true consumer or technical insights
Patience is a true virtue to fight the strong desire to kill anything you can't validate right away. Most transformational innovations require a few rounds of prototyping and creative thinking before they get required support.
Willingness to learn by moving uncertain innovation concepts to validation sprints can be much more productive than wasting time launching one idea after another with poor upfront planning and/or knowledge.  Wishful thinking will not get you very far.
Lifecycle – Good innovation is born, expands, matures, and then dies. How about focusing on preserving margins and exploiting the commercial opportunities first before another blockbuster is launched?So, when you look at where you stand today and what you are planning to do, do you have a good understanding of where your bottlenecks are?

Are people on board and engaged with your idea generating initiatives?
Do you have a shared view on how to treat, prioritize, and fund the good ideas?
Are your methods and process slowing you down or enabling good results?

If you could use some extra help and would like to discuss your present situation today we would love to share an objective / independent point of view.  

Get in contact with us today!

About the Author

Roberto Abramovich – Senior innovation consultant / practitioner helping leading customer centric organizations to achieve more with their innovation efforts

Special thanks to :

Todd Kramer – International customer accounts senior executive and entrepreneur with over 30 years of track record in leading technology and travel companies