Turning ideas into pipeline: prioritization and execution driving innovation leadership
Project Description
Situation
Back in 2008, the client was considered to be the most innovative company in Medtech. By the end of 2009, it had a pipeline of more than 25 new product opportunities, with about half of those being completely new innovations.
Opportunity
A common innovation dilemma: the company did not have the resources, risk appetite or the size to deliver on 12 new products that had high uncertainty factors. The revenue forecasts for these new products had a very high uncertainty factor, ranging from CHF 25 million to CHF 120 million, depending on the scenario.
Approach
We implemented a tighter pipeline planning and review process that was in line with the Stage-Gate process to filter out only the new projects that had a valid business case and true business value. This stricter review process ensured that about half of the projects were rejected during the first two review phases, leaving less than 50% of the original projects in the pipeline by the concept review phase (the 3rd step in the process).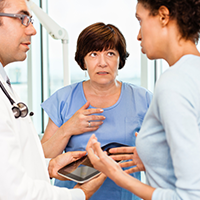 Healthy patients for a healthy business
Project Description
Situation
As the innovation leader of new therapeutic devices that treat the principal types of prostate cancer, the client was getting interest and excitement from oncologists and radiation oncologists. However, despite these new treatment procedures the urologists did not become the gatekeepers for the diagnosis, treatment and referral of patients.
Opportunity
The company's groundbreaking new treatments had great clinical results and enough ambassadors amongst thought leaders in prostate cancer treatment. However, the company was failing to make breakthroughs with referrals from urologists, who diagnose and manage the patient's prostate concerns.
Approach
By focusing on the patient rather than the disease, the importance of disease management over treatment procedures was demonstrated. A portfolio strategy was developed to identify and develop techniques in screening, diagnosis and post-treatment patient monitoring that provided the company with a "solution" driven approach as opposed to a new product approach. The pipeline was thereby strengthened with products and concepts for screening and diagnosis as well as patient monitoring.